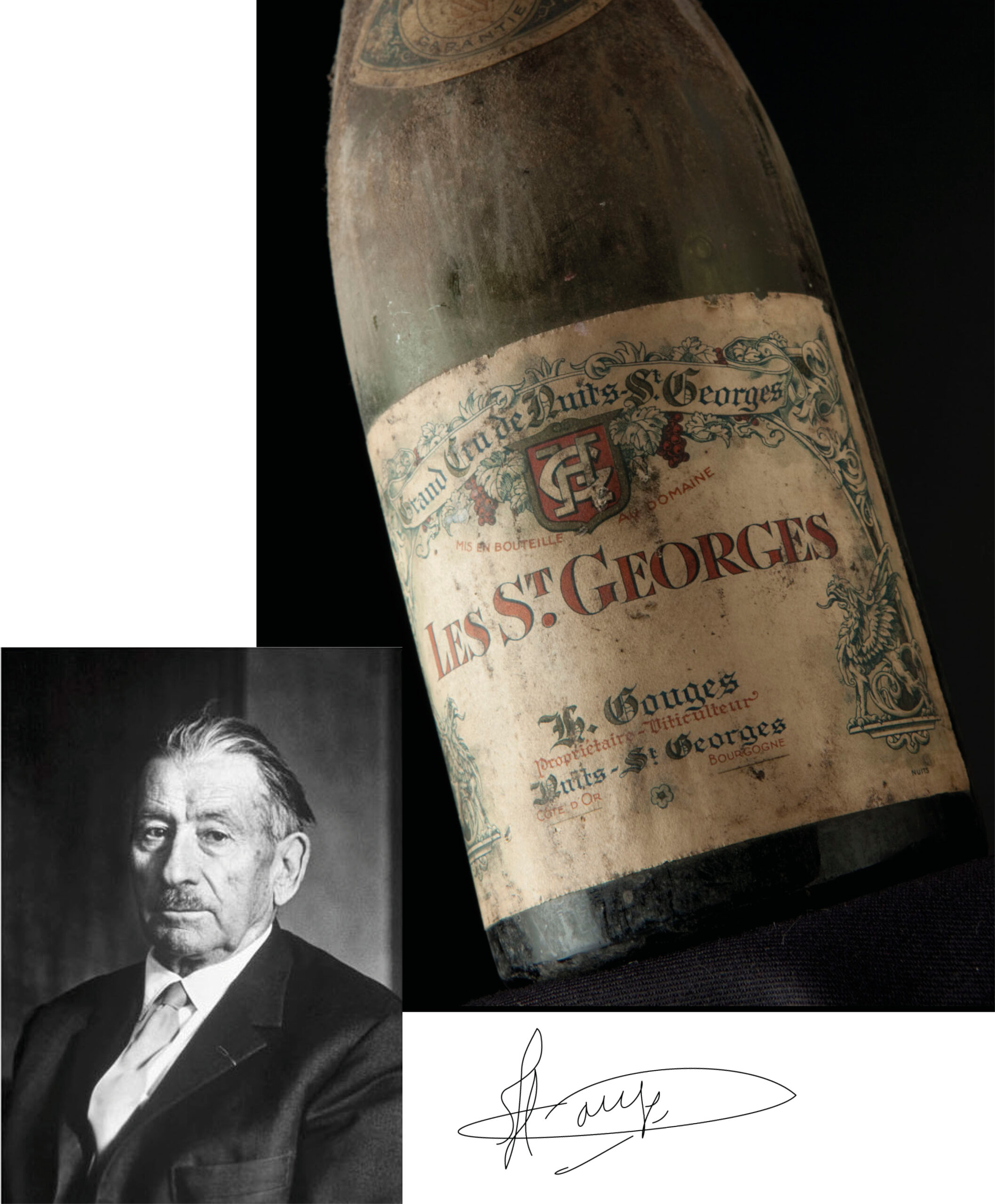 A Century
100 years after Henri Gouges, the Family still protects the Climates of Burgundy.
The war leading to a decrease in prices, Henri Gouges (1889-1967) jumps at the opportunity and acquires the major part of the vines that constitute the estate today. 1920 – Henri – Nuits Saint Georges mark the beginning of the Gouges' history.
It is with deepest pride that we perpetuate nowadays the legacy of this great man: Strong advocate of the Patrimoine Bourguignon, visionary and pioneer, from the bottling to the estate. President of the syndicate defending the Grands Vins de Bourgogne, Henri Gouges is the spearhead of the law on AOC and was the representative of the Burgundian viticulture at the steering community of the INAO.
"It is in the vineyards that the Great Wines ripen", this adage guides all of our choices since the creation of the estate. In 1940, Marcel and Michel Gouges decided to replant the old vineyard to ensure the future. Pierre and Christian attended to modernize the wine production techniques and were the first ones to follow the path of a sustainable viticulture with nothing but quality. This era is marked by exportation, and the wines of Henri Gouges began traveling around the world.
Concerned about the current issues, Grégory and Antoine Gouges, decided to mark their era of responsibility and ecology. For 15 years, the whole estate has been working according to the principles of organic farming. Prioritizing biodiversity, focusing on the vine root development, and supporting the development of microorganisms, the study of soil and its exchanges are the keywords of this fourth generation.
A family that oscillates constantly between tradition in one hand, and openness to its era and a vision of future on the other. As evidenced by the history of the "Pinot Gouges", where this capacity to combine innovation and tradition is most reflected.
Terroir
Vines located exclusively in
Nuits Saint Georges
Gradually forming through the generations, our vineyards extend nowadays on nearly 15 hectares, and our estate counts 10 appellations - among them 7 Premiers Crus, 3 Bourgognes, and 2 Villages.
Discover our wines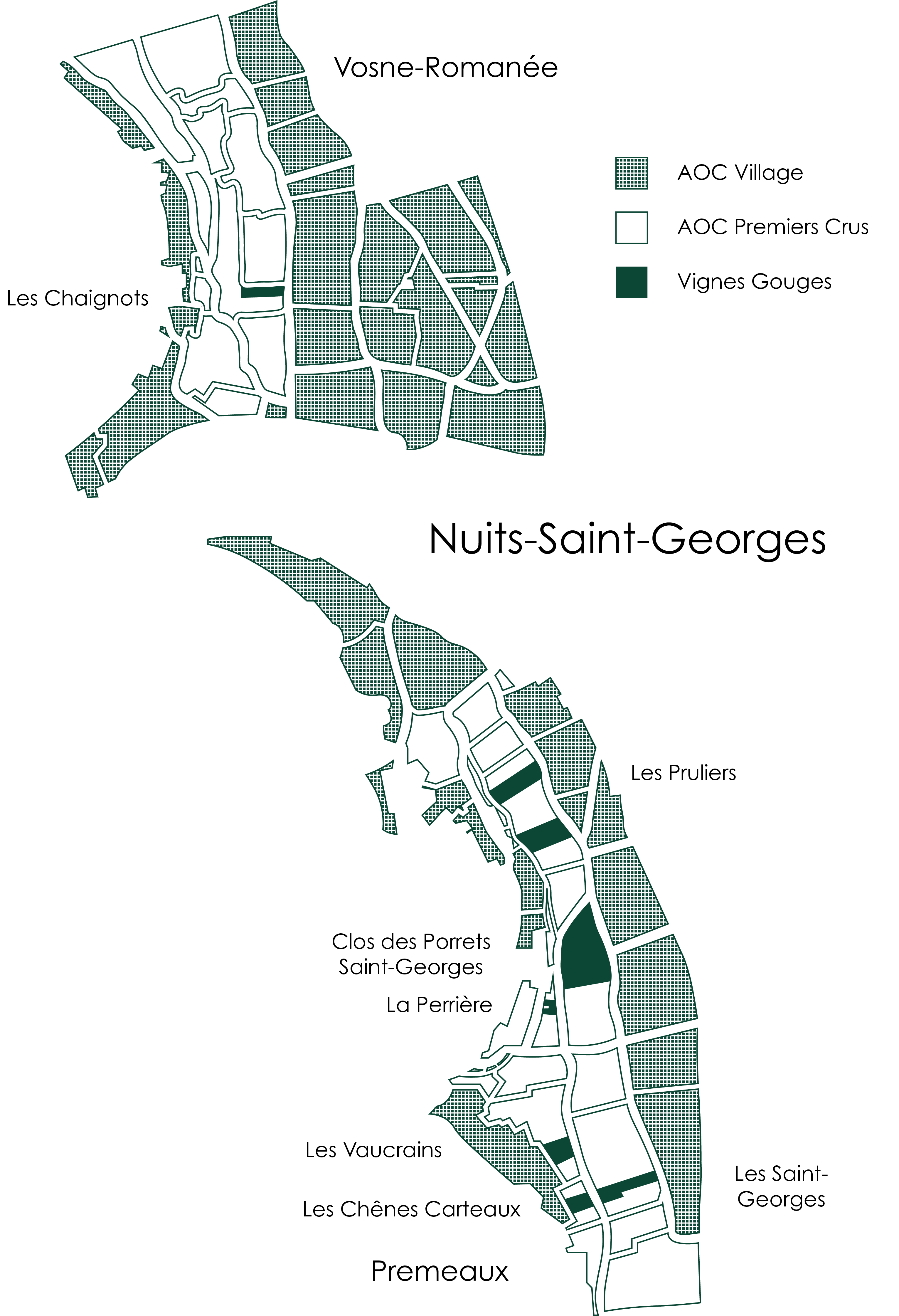 Timeline
The estate Henri Gouges in a few key dates
Beginning
Henri Gouges acquires his first parcels of Nuits Saint Georges
Acquiring
Purchase of the Saint Georges. The most renowned cru of the commune
Discovery
Henri Gouges discovers a branch of white grapes on a vine plant of Pinot Noir. It's the origin of the "Pinot Gouges"
Acquiring
Purchase of the Vaucrains, after Combe des Vallerots and above the Saint Georges.
Acquiring
Purchase of the Clos des Porrets Saint Georges, a monopole of the estate Henri Gouges
2nd generation
Michel and Marcel, Henri Gouges' two sons join him. They together extended the estate to 14 hectares
Acquiring
Purchase of the Chaignots vines, the only Premier Cru the estate exploited on the North part of the appellation
3rd generation
Christian and Pierre Gouges produced pure wines with a high long-keeping potential, commercialized worldwide
4th generation
Grégory Gouges joins the estate. The fourth generation to exploit and look after the vines of Nuits St Georges
Succession
Antoine Gouges joins his cousin to ensure the future of the estate with authenticity, modernity and ecology